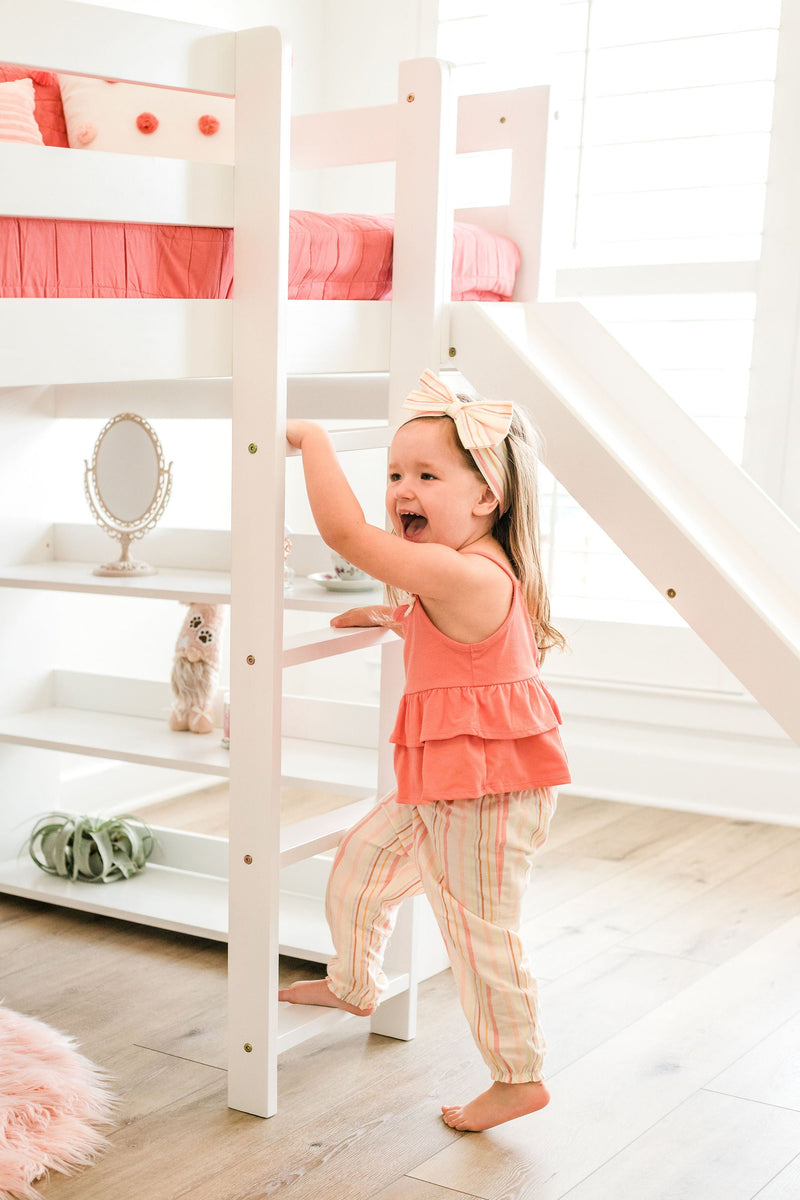 Cyber Monday Savings Extended
Design your child's dream bedroom today
Welcome to Custom Kids Furniture
We are your one-stop destination for beautifully crafted children's beds, including hard-to-find solutions such as loft beds, Montessori floor beds, and captains beds. All of our kids' beds are made with the utmost of quality craftsmanship and design, featuring durable materials and an aesthetic appeal that you and your child will love. Our friendly customer care team is here to assist with any questions you might have, and all of our beds include free, fast shipping. Enjoy easy, convenient online shopping at Custom Kids Furniture, as well as free financing options to make your purchasing experience a seamless one. 
WHO WE ARE
Custom Kids Furniture was launched 7 years ago by parents just like you, who were diligently shopping for functional, practical, quality crafted children's beds. Our company was created from a need for kids' beds that were stylish yet practical for our space, a need that's likely brought you here today. Our team is committed to providing brilliantly engineered pieces that suit your every need, which is why you will find highly sought-after pieces such as Montessori beds, beds with trundles, bunk beds, loft beds, and captains beds on our website. We are also passionate about making shopping for these pieces easy. We are a brand you can trust, and you can safely browse and order directly from the website to receive your child's bed quickly. 
SHOP NOW
We invite you to browse the Custom Kids Furniture collection, which includes a wide array of custom children's beds for every space. In addition to premium beds for your kids, you'll also find accessories such as bed tents, mattresses, dressers, nightstands, and more at the Custom Kids Furniture website. Your child's bed will include simple and thorough assembly instructions with minimal tools required. All orders include fast and free shipping, and flexible financing options are available for your convenience. If you have any questions, our customer care team is here to help! 
★★★★

"Looked at all kinds of beds to see what I wanted and in the end this was going to be the best one for my 8yr old. Got it and didn't tell our son. Took him out for couple hours while his dad built it. He was so excited to see it and loves it!! It's perfect! He loves the bed, book shelf, and computer desk which he now has a computer on. Like any bunk bed it's kind of hard to make this one and I won't go on as I'm too heavy so he has to do it. All in all a great bed. 

Ally Ellis

Washington
★★★★★

My daughter is very happy with her new bed. It is high quality, solid pine that has been engineered with precision. Setup took about four hours. The instructions are simple to follow and the screws and fittings all worked as designed. No split wood or defects out of the box. Once completed, the bed is sturdy but not too heavy. Overall, we are thrilled with this bed. We returned another bed purchased from a national retailer because it was pressboard and low quality that would not have lasted two years. This bed should last 10-20 years.

John Hill

California
★★★★★

We've had this for a few years now and its been PERFECT! I have now had several friends order form here, and all feedback has been similar. These are great space savers while not having the crowding for 3 in a row. Theyre very sturdy and well-made - highly recommend!

Brittany Meseck

Virginia
★★★★★

Great!!! Ordered everything and within five days it all showed up, took a couple of hours to put it together and it looks amazing!! Kids love it!!💙

Cynthia Muniz

Florida
★★★★★

Wonderful!! i accidentally ordered the wrong size but the exchange process with the original item went so smoothly, we got the correct item so quickly and it is so well made and just beautiful! it was very easy to put together too. will definitely order from you again!

Rachel Preston

New Jersey
★★★★

We LOVE this bed. I was nervous to order it because it had no reviews, but it's wonderful. It is firm and quality wood. We feel safe laying in bed with our toddler or leaving him to sleep alone. The only thing that would make it a 5 star is if the end of the railing was more rounded for safety. I would def order this again

Wonderland12

Tennessee
★★★★★

Thank you for this great product. The wood is solid and built well. We love the design. I like that I can sit up underneath the bunked at night at talk to my children. Our children love it. I am sure we will keep this bed for awhile fits the room perfect. :)

Julie Held

California